Post by tintin on Jan 30, 2016 18:20:17 GMT 1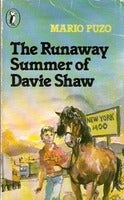 This is a strange book. It is short, but well written and a lot happens.
Davie is a young boy in the US whose parents go on a trip during the summer holidays. Arrangements are made for him to spend part of the time with his grandparents and the rest at his uncle's farm. The arrangements go wrong and he ends up journeying across America to try to re-unite with his parents.
The book is not naturalistic in style being instead fantastical. Not as fantastical as CS Lewis, being more grounded in this world, and lacking the sadistic, moralistic schadenfreude of Roald Dahl it reminded me a bit of the Phantom Toll Booth, but again more in this world, just a more colourful version of it
The book belongs in the tradition of works like Voltaire's Candide where the device of an innocent abroad is used to throw light on society.It also fits in the tradition of road movies where the audience is shown things about America through the plot device of someone travelling across it.
The book was written in 1966 and is, I think, very prescient and far sighted on how trends were going. Davie's grandfather is a TV addict and this is very well explained in a very sympathetic way. There is also a very good satire of celebrity culture. Davie encounters a man who runs a house where wannabe celebs go to sleep in the hope of literally "waking up famous". This is disturbingly close to todays "Big Brother" TV show. There is also in the Uncle's farm a comment on the attitude of the USA of that era that any problem could be solved by throwing technology at it - the McNamara era at the Pentagon with Vienam. Davie's uncle grows monster vegetables with the aid of electric current, but they are scarcely edible.
It is not a very horsey book, but Davie has a contrary pony who faithfully accompanies him on the journey - Mustang - who he becomes genuinely attached to. As revealed in the book the author's horse knowledge is pretty sketchy (or perhaps he wants to emphasise the Uncle's ineptitude as a farmer in not even knowing what sort of horse he has) The best part of the book though is where Davie and Mustang spend the night with the carriage drivers and horses of Central Park, although almost certainly entirely imaginary it is a beautiful, idyllic camp life scene
The book has a happy ending. The picky Mustang finds a job that agrees with him and Davie finds his parents. Mum, Dad and Davie realise that they are the most important things in the world to each other. Perhaps unsurprisingly from the author of "The Godfather" the book is about family
4 Stars - for originality, charm, humour, readability and weirdness