Post by Claire on Mar 17, 2015 17:20:44 GMT 1
THE HOMECOMING BY MARLENA FRICK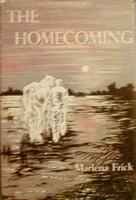 SUMMARY:
Set in France but published in the UK and USA. A horse story for adults or older children. Valentin works for the farmer Pascal. As he has a good eye for a horse he is sent to the sales to buy a hunter and comes back with a beautiful Carmargue horse called Pompidou. Over the years the horse becomes like a son to him. But when he and the horse are both old and tired Pascal tells him to sell Pompidou to the bull ring. Appalled at the horrible death that would await his old friend, Valentin steals the horse and sets off to the swamps of Carmargue to set him free.
REVIEW:
A rescue story with, unusually, an adult rescuer. It is similar in theme and tone to
Kingdom for a Horse
by Dorian Williams which is probably better known. Like that book, this is a sad and mainly downbeat novel but it does have some amusing characters to add some lightness and humour. The contrast of one attitude towards animals: that they are expendable and only of use to humans (seen in both the casting away of Pompidou when he gets too old to work and in the theme of the bull ring itself) with the opposite view that animals can be friends and deserving of our respect and love, is central to the book. It has also been suggested that the novel is allegorical in that the harsh treatment of the horse when he is no longer of use is paralleled by that of society to the elderly. Certainly both the fate of the old man and old horse are deeply entwined. Both are tossed on the metaphorical scrapheap when they no longer are of use.
The relationship between man and horse is poignant and affecting. Although the downbeat ending could have been overly sentimental and cloying it manages to escape that fate through the simple writing style and matter of fact tone. Not a book to cheer one up, and certainly not a comfort read, but in my mind, the fact that Valentin does not choose to accept his and the horse's fate, makes it ultimately positive rather than negative. Not really suitable for younger children, this is an adult story which would also be appreciated by thoughtful older children.

PONYMAD RATING: 4 HORSESHOES